The EU funded project 'TRUSTS' is coming to an end, while it runs for almost three years, funded by the European Commission. August 2022 marked the conclusion of the three Use Cases second demonstration cycle.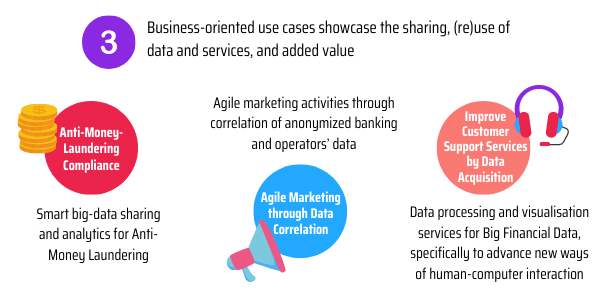 The TRUSTS Use Cases were defined to ensure the technology innovations developed and thoroughly test the TRUSTS solutions and business aspects, involving actors that represent all targeted sectors. Subsequently conducting advanced field trials within the sectors of Financial Institutions, Telecom Operators, Corporate data providers, etc., while demonstrating and validating the TRUSTS Platform.
The three TRUSTS Use cases executed more than 80 trial sessions throughout the duration of the TRUSTS trials performed under the two defined demonstration cycles. Trials Cycle 1 was executed between May – November 2021 with a total of 22 trial sessions collectively by all three Use Cases while, Cycle 2 trials was executed between February – August 2022 with a total of 62 trial sessions.
The two cycles of the TRUSTS trials intended to evaluate the TRUSTS marketplace in the various versions developed throughout the project and provide feedback and lessons learned to support the accomplishment of the final version. The outcome of the second demonstration cycle will give feedback mainly back to work package 3 focusing on the developments, for further and final iterations.
Evaluation and Lessons Learnt
The final 360o TRUSTS evaluation and lessons learnt will be documented in the public deliverable D5.11 entitled "Performance evaluation and lessons learnt report II" which will be submitted by November 2022.
The operational plan followed is documented in the public deliverable D5.2 where the methodology used is laid out, although a final updated version will be submitted by November 2022.