With the Stakeholder Advisory Board, we integrate external expertise in order to be able to include a wide variety of viewpoints in the development process. Our experts are advisors, but also ambassadors for TRUSTS. 
The Stakeholder Advisory Board of TRUSTS – SAB – consists of relevant external, independent experts, whose expertise is addressed by the project. The SAB members support the TRUSTS project by sharing their perspective, which is of great significance in terms of the implementation of the TRUSTS project and its sustainability.
Our board is composed of experts from various countries and with various professions. We want to introduce the SAB to you in three parts.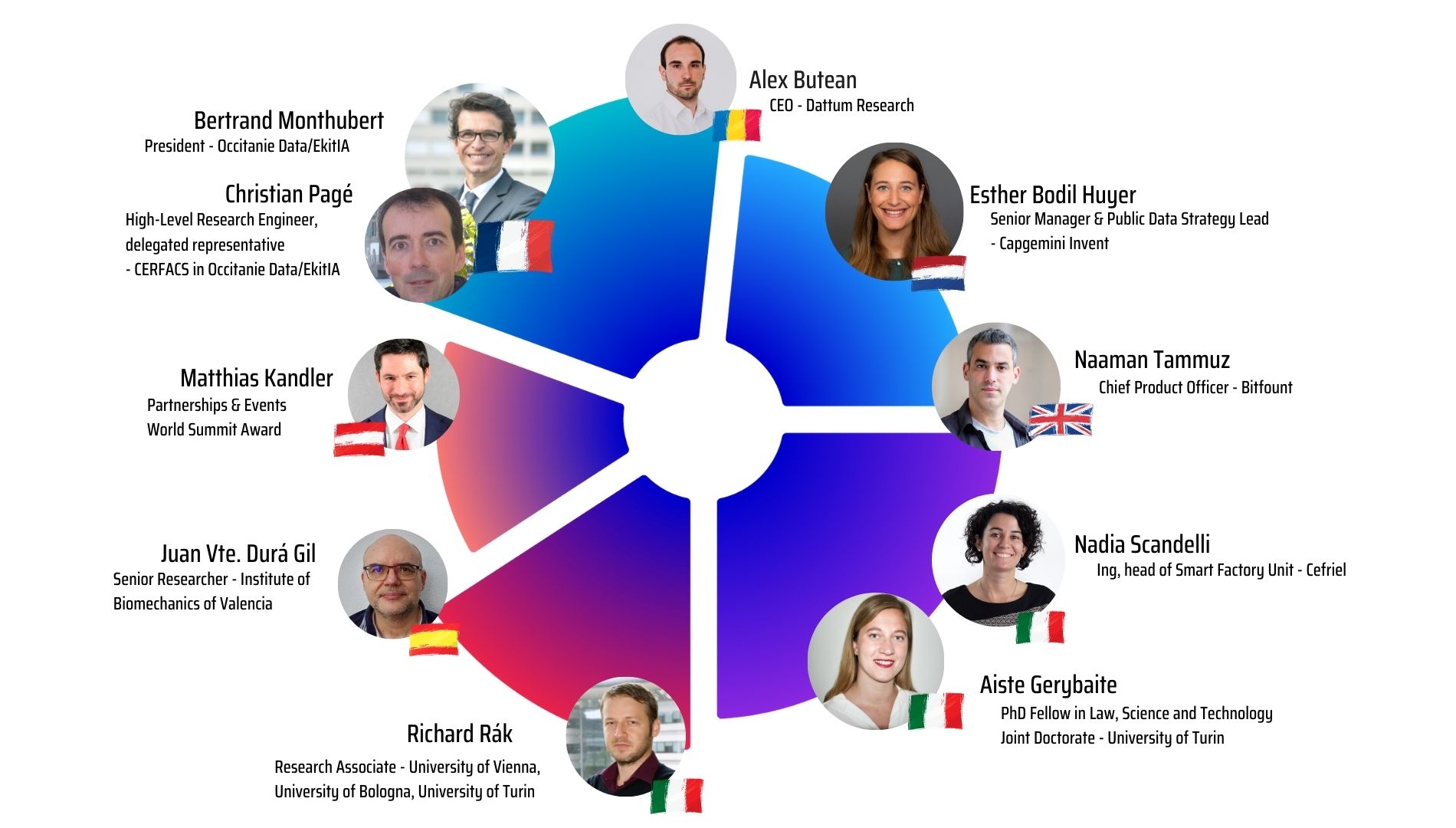 Dr. Alex Butean
Alex Butean is CEO of Dattum Research. 
"I truly believe that TRUSTS will grow and be able to create an EU-wide approach to cover data aspects (sharing, monetization, security)."  
In his opinion, the current context already proved that data initiatives are scattered and inefficient. TRUSTS has correctly identified that problem and could rapidly become a business and strategical partner for policy makers and technology providers. Without this initiative (or other similar ones) the influence in handling and counting on data from US and China will weaken the European ecosystem and will create dependencies controlled by external stakeholders.
His Special power for the SAB is to offer feedback and advice to incorporate into the TRUSTS platform complex technologies and standards from products and services in areas like blockchain, artificial intelligence and quantum computing.
Aiste Gerybaite, LL. M.
Aiste Gerybaite is a PhD Fellow in Law, Science and Technology within the Joint Doctorate: Rights of the Internet of Everything (Last-JD-RIoE) program at the University of Turin / University of Bologna / University of Luxembourg. The programme is sponsored under the European Union's Horizon 2020 research and innovation programme under the Marie Skłodowska-Curie ITN EJD grant agreement No 814177.
She completed her education in Law with the Master of Laws in European and Comparative Law at the University of Malta. Coming from KPMG Aiste has been the lead person for providing feedback on the legal framework governing DLT and AI in Malta as well as assisting Maltese government with the drafting of the regulations within DLT space. Aiste is also a guest lecturer at the Malta Stock Exchange, the Malta Institute of Management and the University of Malta on legal aspects DLTs and AI solutions. Her doctoral research focuses on Big Data for Health in IoE in emergency situations.
"There is a great need for the development of a safe and secure data market within the EU in order to protect its citizens. I believe that TRUSTS makes important inroads in the development of such space in order to promote digital innovation."
Juan Vte. Durá Gil, PhD , MSc Eng
Juan Vte. Durá Gil is a senior researcher at the Institute of Biomechanics of Valencia. 
He has a wide experience in R&D activities addressed to footwear and clothing companies and has been the project coordinator in several projects which are highly relevant to the European Union related to Big Data and Data Exchange (e.g. BODYPASS). Currently, he coordinates the development of the VALENCADATA platform for sharing and reuse personal data in research projects.
"Exchange experiences about secure data access and secured data exchange. I believe that the TRUSTS project could be important in order to define methods and standards for secure and trustworthy data markets."
 His special power for the SAB is his experience in the management of personal data according to GDPR and high ethical standards.