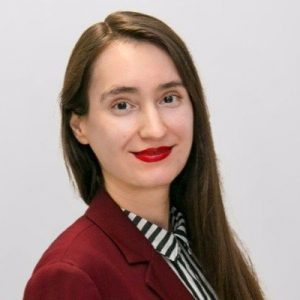 Alexandra Garatzogianni is the coordinator of TRUSTS, head of  Knowledge & Technology Transfer at the Leibniz Information Center for Science & Technology, University Library (TIB) and moreover coordinator of further European projects at the Leibniz University of Hannover (LUH) in the domains of innovation and entrepreneurship. 
"I thrive on building and leading high impact, diverse and talented teams that successfully tackle challenges related to rapid innovation, project management, international business development, software product management, startup consulting, data-driven entrepreneurship, project and funding acquisition, while ensuring alignment with the 17 SDGs by the UN." 
Alexandras multicultural and multidisciplinary teams deliver high-quality results, while special attention is given to the human factor, in order to co-shape supportive, healthy, open and transparent work environments. She relishes in developing teams and enabling collaborators attain their potential via supportive and attentive leadership. 
Dear Alexandra, what are you currently working on? What are you responsible for?
At the TRUSTS consortium level, I am responsible for the coordination, leadership and guidance of all Consortium partners as well as the successful and timely delivery of project results, according to the standards of the European Commission. At internal level, I have set up my team, consisting of Ms. Alina Brockob, Mr. Gerrit Rosam and Mr. Michael Fribus, that I train and mentor as project managers and business developers for TRUSTS in particular and European innovation projects in general. 
What is your motivation to work within a project like TRUSTS? 
I co-initiated the TRUSTS proposal with two consortium partners, as I was fascinated by the amplitude of possibilities within the context of data market technologies. TRUSTS is a highly ambitious project; initially at the proposal phase I was particularly enticed as we are further building on technologies used and lessons learned by two pioneering national projects, namely Data Market Austria (DMA) and International Data Spaces Association (IDSA). Moreover, it is meaningful to me that in TRUSTS we are further developing significant pillars to enable the promise of the Digital Single Market; besides working towards federation and integration of further platforms in a strictly technical framework, effort and resources are invested in the legal and ethical pillar, ensuring GDPR compliance, and the sustainable business uptake of our three use cases in the financial and telecom operator industries. 
Why are you working in TRUSTS? 
With the ambition to co-create a secure and trustworthy European Data market for personal and industrial use, TRUSTS brings together technology providers, data providers, research institutions, and multipliers of leading institutions and companies in Europe and beyond, that collaborate to interconnect different user groups and provide functionalities for innovative applications and services. Our work to ensure trust in the concept of data markets focuses on the delivery of key innovations beyond the technical domains, enabling sustainability and compliance; including our legal and ethical framework for the TRUSTS Platform with relevant regulations and ethics principles, as well as our sustainable business model.
Could you finish the sentence? I'm known for …
 I am known for being results oriented, persistent and entrepreneurial.
And your best moment in TRUSTS so far was …
I have had many great moments in TRUSTS. The latest one, was the fact that we had our successful first review of the project, where we showcased our achievements, commitment and plans for the second and final period of the project.
Thank you Alexandra!