On 28 January 2021, the second webinar of the TRUSTS webinar series was held. This time, the consortium members Andreas Huber (CEO @ Governance One) and Bert Utermark (Partner @ Trusted Data Analytics) discussed business model considerations of the emerging TRUSTS data market and delved into the topics of data markets taxonomy, value creation and USPs en route to business sustainability.
In line with the European Data Strategy and the concept of common European data spaces, TRUSTS seeks to establish a data platform for secure, trustworthy and GDPR-compliant data exchange. In doing so, it strives for business sustainability to become a viable business partner in the data ecosystem. To set itself apart from other data market infrastructures, TRUSTS focuses on data sovereignty, federation, and interoperability. However, does this suffice for business sustainability? It is definitely not an easy undertaking and requires dedicated exploration as part of the project.
Generally speaking, there are 3 distinct roles to be filled by the emerging TRUSTS platform:
Data Market
Data Market Federator (meta-market)
Ecosystem Facilitator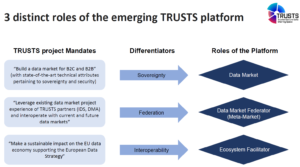 In its first role as a data market, TRUSTS concentrates on data sovereignty, privacy and security and is planning to set up a data market for both, B2C and B2B. For this purpose, the 3 use cases are being explored in the financial and telecommunication sector, deploying state-of-the-art methods such as federated learning, transfer learning, multiparty computation and homomorphic encryption.
Yet, to achieve sustainability, data markets and platforms strive for richer pools of data assets, that is problem-solution specific data sets and pertinent algorithms and functionalities. A pathway to achieving this is to bring together a multitude of open data cloud systems and large data vendors in common data spaces and an overarching data market to overcome the problem of fragmentation. A data-driven ecosystem is then formed through the inclusion of further stakeholders and innovative data-driven services.
In its second role as a data market federator or meta-data market, TRUSTS brings together several data markets and leverages the experience of the data market projects IDS and DMA. TRUSTS will become
"a platform that fosters value transfer and resource sharing among and across other (same- or cross-domain) individual platforms based on the concept of federation through openness and interoperability endeavours, thus enabling quicker and greater network effects", Andreas emphasised.
As an ecosystem facilitator, TRUSTS aspires to have a sustainable impact on the EU data economy, while concentrating on interoperability and acting as building block for enacting the European Data Strategy. The consortium partner IDSA already provides a deployed standard (IDS framework) for interoperability, which focuses on a decentralised data infrastructure. This framework of open standards and interoperability can enable TRUSTS to contribute to breaking up legacy- or technology vendor-induced silos by forming the interconnected infrastructure for secure exchange and deployment of data assets.
The data ecosystem does not only include data sellers and buyers. Very much like in a layered model, at the core, there is the transactional data exchange value chain including direct data suppliers, data value distribution channels, and data users. Stakeholders are added in the outer layers. These include among others technology and services providers, research and academia, government institutions or standardisation bodies. "On balance, data providers and data users require enabling players", Andreas explains.
Taxonomy and business modelling for TRUSTS
After a first wave of mostly failed data markets over the last decade, today, there is a wide range of data marketplaces with very diverse origins, differentiated approaches and value propositions. Each of them has chosen specific pathways to sustainability. TRUSTS does not focus on researching once more those proven business models encompassing proprietary data enrichment and trading, but puts a focus on data markets which predominantly act as intermediaries, facilitators, and brokers to enable decentralised data exchange, while adding rich data processing and transformation functionalities. The required approach of interoperability and decentralisation is fully reflecting the European Data Strategy – "the value of diversity brought together", Bert adds.
As input to the project, TRUSTS' consortium partner Delft University of Technology conducted research in data market taxonomies, focusing on business model attributes. The resulting comprehensive framework will be applied in TRUSTS to test and refine business models. "It is like a pre-configured morphologic box for data markets, corresponding to the commonly known business modelling canvas", explains Bert.
For the webinar, a simplified depiction of standard Business Model Architecture was used to elaborate on the observations current state of business modelling within TRUSTS. It comprises a [1] value creation model (product squared with value discipline, customers and channels), [2] profit model (unit economics based on revenue model and cost structure) and the amalgamating [3] business logic defining sustainability and growth through virtuous cycles.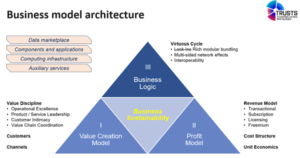 When exploring these three domains of the business architecture for a basic data market with transaction-based pricing during the Data Market Austria project (2016-2019), it became apparent that this hardly will form a sustainable business model. Next to more refined customer segmentation, e.g. with increased business domain specificity, this takes modular bundling and interoperability of algorithms and components, and not least the complementing components and applications, necessary computing infrastructure and auxiliary services. Building a business model thereby becomes a multidimensional challenge within overlapping competitive environments.
Differentiators and potential USPs
Data is a unique economic good and rarely acts like a commodity in fully transparent markets. The problem of data pricing remains unsolved. Thus, the value of data is highly contextual and usage dependent. Research of German consortium partner Fraunhofer Gesellschaft indicates higher profitability of business models pertaining to data space operations and provision of trusted data services.
To differentiate itself, TRUSTS explores a set of promising differentiating factors – sovereignty and security, federation, and interoperability – corresponding to the three mandated roles of the platform.
In the context of the European Data Strategy, the federation concept for data markets is unique, not only making accessible a profusion of data assets but lifting the interoperability to the next level. The vision of TRUSTS is to become a central venue for data exchange and a new federated data ecosystem allowing the integration and adoption of future platforms, and getting part and parcel of everyday business processes of companies and across industrial value chains.
Originally, data markets focused on the facilitation of data assets trading and could only survive as highly specialised, domain specific niche markets. Simply scaling up data supply and growing into data super-markets catering for all needs was a deadlock.
Bert says: "Over the last five years, the data market landscape has evolved dramatically and became more sophisticated. And there are clear synergies between nimble specialised pools of data assets. The TRUSTS platform could become the equivalent of a data asset mall operator, providing the infrastructure for collaborative data spaces linked to all sorts of specialised providers of data sets and services."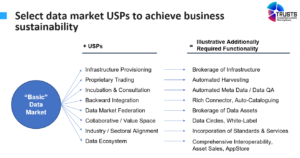 Bert summarises: "When exploring business model options, we need to move away from an understanding of data-as-a-product, pushed for sales, and rather focus on applied data-as-solution to business problems in coopetitive settings. For this, we need to bring interoperable infrastructure and services into the mix. Only if we take all this together, within an open, well-governed framework, will we make a meaningful contribution to and have an impact on the European data economy."
How to get involved
To create a sustainable business model of the TRUSTS platform and cater for the requirements of the European data economy, the TRUSTS consortium is inviting interested stakeholders to participate. If you or your organisation want to get involved, support or collaborate with our project, please get in touch. The possibilities are manyfold, ranging from participation in our webinars and podcasts, contributions to our Advisory Board, focus groups and workshops or the exploration of options for using the emerging platform for pilot projects.
We are looking forward to hearing from you: info@trusts-data.eu
If you have missed the webinar, you can find the link on our YouTube channel.
Here you can also find the PPT slides.