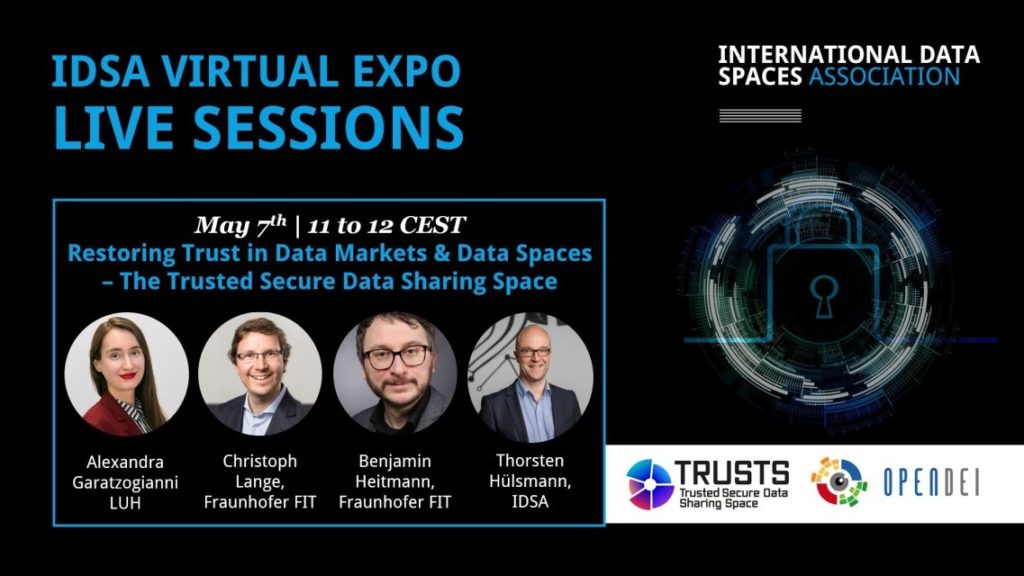 The TRUSTS partner International Data Spaces Association (IDSA) has developed and established a general standard for data sovereignty. IDSA has thus created an indispensable fundament for data sharing ecosystems. The aim of the IDSA is to enable the creation of secure and trustworthy ecosystems based on the IDS reference architecture, in which data can be exchanged self-determinedly between all participants.
To counteract the cancellation of the Hannover Messe 2020, the IDSA organized its first Virtual Expo in April and May 2020, where 19 member companies and hubs showed how a sovereign and secure data exchange works – how it can drive innovation, efficiency and business growth. IDSA also organized informative and insightful live sessions: Experts explained the potential of secure data sharing, exhibitors presented their solutions for data ecosystems.
The TRUSTS project was featured at the IDSA Virtual Expo, in the "stand" of the European projects, in which IDSA is engaged as consortium partner. Moreover, a one-hour live session about "Restoring Trust in Data Markets & Data Spaces" was organized by IDSA and hosted by Thorsten Hülsmann, IDSA's CFO. Alexandra Garatzogianni, Head of Tech Transfer at the Leibniz Information Center for Science & Technology (TIB) and Coordinator of the TRUSTS project, presented TRUSTS and elaborated on the various objectives, challenges, and key innovations of the project. Christoph Lange, Head of Knowledge Pipelines Department at Fraunhofer FIT, highlighted the importance of IDSA in the data markets ecosystem. Benjamin Heitmann, Technical Lead of the TRUSTS project, addressed technical considerations and questions pertaining to the TRUSTS platform.
If you have an hour to spare, use the opportunity to watch the recorded session which consists of four videos:
Restoring Trust in Data Markets & Data Spaces – An Introduction by Thorsten Hülsmann
TRUSTS – A Trusted Secure Data Space  – Alexandra Garatzogianni
IDS: Community of Trust for Data as a Commodity – Christoph Lange
Second Generation Data Spaces – Scaling of Data Spaces – Benjamin Heitmann
This and other recordings are available online in the IDSA YouTube channel.